Multi award winning photographer Ian van der Wolde is a leading Melbourne based commercial photographer who first opened his studio, Altered Images Photography back in 1986.
Ian achieved the level of Master of Photography IV (4 Gold Bars), and was awarded the honours, Honorary Fellow and Fellow of the former Australian Institute of Professional Photography, Ian has also in recent decades accumulated numerous industry awards and titles.
Ian has been awarded the AIPP Victorian Landscape Photographer of the Year title, not once, but twice in both 2012 & 2017, he also took out the AIPP Victorian Illustrative Photographer of the Year in 2012 giving him 2 category wins that year.
A pioneer in the field of digital capture, colour management and fine art printing, he has built a solid reputation on the high standard of service he provides his clients.
Ian deals with advertising agencies, design studios and clients direct. His specialties include, advertising photography, aerial photography, architectural photography, commercial photography, corporate portrait photography, fashion photography, food photography, industrial photography, product photography, studio and location photography as well as large format archival fine art printing.
Although based in Melbourne, Ian is regularly commissioned by clients in both Australia and internationally.
Ian welcomes all photography assignments regardless of size, so whether your need is a
corporate head shot
, a couple of
product shots
, or a full scale advertising production, make Ian and Altered Images your "go to" photographers.
Endorsements
Accolades
2019
1 Gold Award at the AIPP Australian Professional Photography Awards
1 Silver Award with Distinction at the AIPP Australian Professional Photography Awards
1 Silver Award at the AIPP Australian Professional Photography Awards
2018
Awarded the Prestigious Honour of "Fellow" of the Australian Institute of Professional Photography the AIPP's Highest Honour
Appointed Profoto Light Shaping Ambassador
1 Silver Award with Distinction at the AIPP Australian Professional Photography Awards
Attained 4th Gold Bar to AIPP Master of Photography Status
2017
2017 Victorian AIPP Professional Landscape Photographer of the Year
1 Silver Award at the AIPP Victorian Professional Photography Awards
3 Silver Awards with Distinction at the AIPP Victorian Professional Photography Awards
2 Gold Awards at the AIPP Victorian Professional Photography Awards
1 Gold Award with Distinction at the AIPP Victorian Professional Photography Awards
2 Silver Awards at the AIPP Australian Professional Photography Awards
2016
Appointed BenQ Photographers Monitor Ambassador
4 Silver Awards at the AIPP Australian Professional Photography Awards
2015
Appointed X-Rite Coloratti (Colour Management Expert)
2 Silver Awards at the AIPP Australian Professional Photography Awards
1 Silver Award with Distinction at the AIPP Australian Professional Photography Awards
Attained 3rd Gold Bar to AIPP Master of Photography Status
2014
4 Silver Awards at the AIPP Australian Professional Photography Awards
Appointed Australia's Only Official Profoto Premium Club Trainer
2013
Invited as one of only 6 Australians (at that time) to become an International Ilford Master
4 Silver Awards at the AIPP Australian Professional Photography Awards
3 Silver Awards at the AIPP Victorian Professional Photography Awards
2012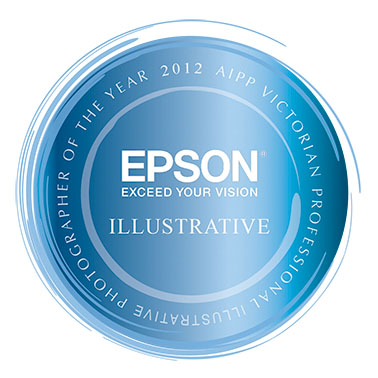 2012 Victorian AIPP Professional Illustrative Photographer of the Year
2012 Victorian AIPP Professional Landscape Photographer of the Year
2 Silver Awards and 2 Silver Awards with Distinction at the AIPP Australian Professional Photography Awards
1 Gold Award with Distinction at the AIPP Victorian Professional Photography Awards
2 Gold Awards at the AIPP Victorian Professional Photography Awards
5 Silver Awards with Distinction at the AIPP Victorian Professional Photography Awards
3 Silver Awards at the AIPP Victorian Professional Photography Awards
Attained 2nd Gold Bar to AIPP Master of Photography Status
2011
3 Silver Awards and 1 Silver Awards with Distinction at the AIPP Australian Professional Photography Awards
2010
3 Silver Awards and 1 Silver Awards with Distinction at the AIPP Australian Professional Photography Awards
2009
2 Silver Awards and 1 Silver Awards with Distinction at the AIPP Australian Professional Photography Awards
Attained 1st Gold Bar to AIPP Master of Photography Status
2008
3 Silver Awards and 1 Silver Awards with Distinction at the AIPP Australian Professional Photography Awards
6 Silver Awards and 2 Bronze Awards at the International Aperture Awards
Awarded the Prestigious Honour of "Honorary Fellow" of the Australian Institute of Professional Photography
2007
1 Gold Award, 2 Silver Awards and 1 Silver Awards with Distinction at the AIPP Australian Professional Photography Awards
6 Silver Awards ant the Victorian AIPP Professional Photography Awards
Runner Up Victorian AIPP Commercial Photographer of the Year
Attained AIPP Master of Photography Status
2006
1 Silver Awards at the AIPP Australian Professional Photography Awards
2005
2 Silver Awards at the AIPP Australian Professional Photography Awards
2004
2 Silver Awards at the AIPP Australian Professional Photography Awards
2003
2 Silver Awards at the AIPP Australian Professional Photography Awards
Attained AIPP Associate Status
2002
1 Silver Awards at the AIPP Australian Professional Photography Awards
Elected AIPP National President